After a long day at the office and an even longer commute home through Northern Virginia, there's little that's appealing about fixing a good meal for yourself and/or your family. But dining in a restaurant isn't what you're in the mood for tonight.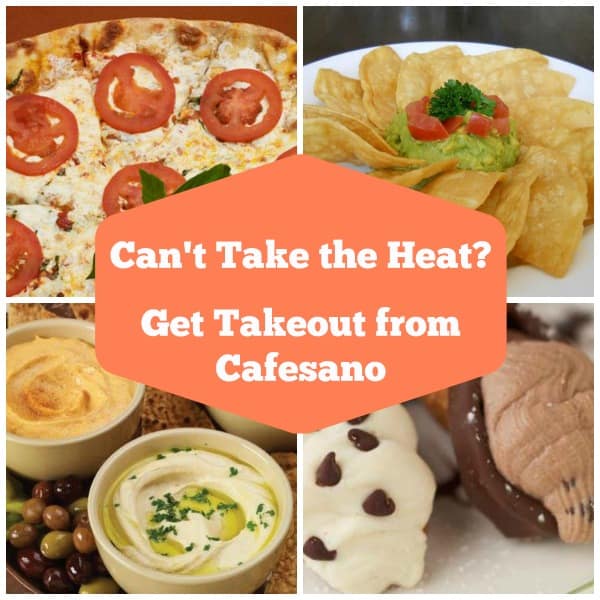 What you really want to do is relax on your back deck eating great food that you haven't had to cook yourself.
Cafesano—a restaurant in Reston, VA, serving truly outstanding Italian and Mediterranean cuisine—has a cool solution for you. Before you leave your office, use our new and improved online ordering system to place your meal requests. Then, on your way home, simply swing by our restaurant to pick up your order. You'll be in and out of our store—and back at home enjoying a delicious meal—in much less time than it would take you to fix a meal yourself.
Now that temperatures are back to reaching 90 degrees in Reston and the humidity seems to be up in that same range, the last thing you want to do is turn on a hot stove. You could fire up the grill, but even making hot dogs and hamburgers—assuming that you have the rolls, the condiments and a few healthy sides to make a complete meal—just seems to take too much energy. Plus you served that meal twice last week—your family deserves something that's better tasting and better nutritionally as well.
Why not provide them with a food treat that's delicious and nutritious as well? Cafesano, a restaurant operating in Reston, Virginia for almost 9 years, specializes in fresh, Mediterranean-style cooking—considered by some to be the healthiest diet in the world.  Olive oil, with its many proven benefits, is a key ingredient in many of our meals. For our recipes, we steer clear of preservatives and hydrogenated fats, relying on fresh vegetables, flavorful herbs, and the best meats and dairy products to make truly memorable meals.
Contrast our takeout options—full of all those wonderful, healthy ingredients—to takeout from a typical fast food joint. Wouldn't you rather serve your family chicken, steak or vegetable kabobs? Cafesano's signature salad, made with romaine, artichokes, tomatoes, cucumbers, olives, red onions, fresh avocado and mozzarella? A roasted turkey BLT panini or a hummus and Greek salad wrap?  There are so many Italian and Mediterranean food items on the Cafesano menu that you could order out every few days and still not have tried everything by the time summer is over.
Just in time for the hot season, Cafesano has made online ordering easier than ever before. We'll store your ordering information so that the process goes even faster the next time. We'll even keep track of your favorite meals, like pepperoni pizza with mushrooms and peppers, or an avocado bruschetta appetizer followed by a grilled shrimp skewer.
One other benefit of ordering takeout from the Cafesano restaurant in Reston, VA, becomes obvious when it comes to clean up after you've enjoyed a delicious meal. You'll find there is no time-consuming cleanup required, unless you count closing and refrigerating any containers of uneaten food as hard work (you'll find our portions are pretty generous).
Once you get a taste for meals from Cafesano's restaurant in Reston, you'll find the habit is hard to break. So you'll be glad to know that you can place an online order for takeout at lunch as well. Plus, we've set up a special lunchtime express pickup location (just 10 doors down from our restaurant) to speed the process and accommodate tight schedules of workers on their lunch hours.
So don't consider the summer heat a problem—consider it an opportunity! Order takeout food online from Cafesano and taste for yourself just how great a summer meal can be.      
Join the conversation!
What are some of your favorite summer-time meals?