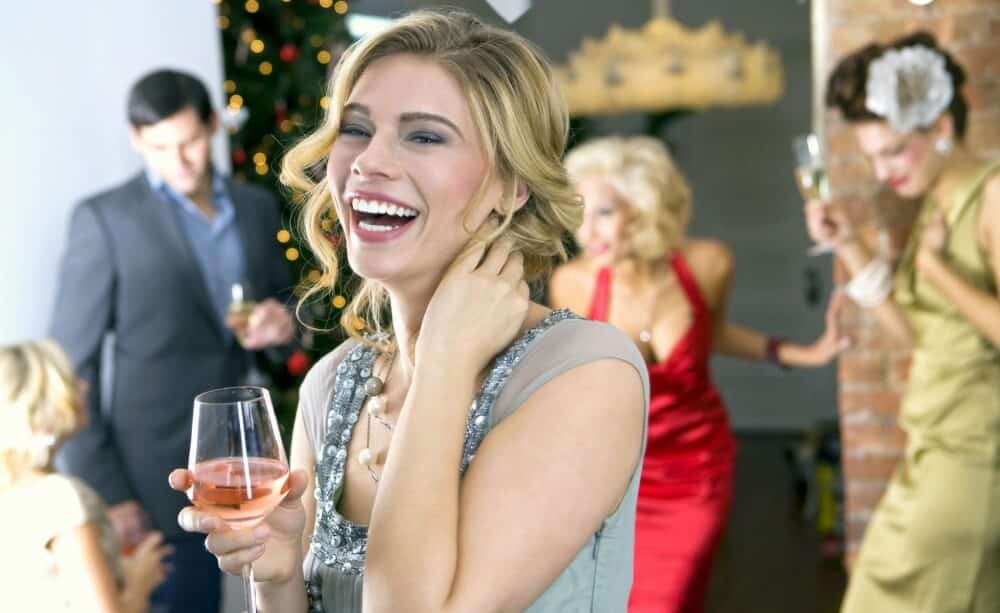 With the holiday season in full swing, it's a time for family gatherings and holiday office parties.
And that means stress levels can go through the roof!
But there's no need to worry—with some careful planning and a little imagination, you can host a magnificent holiday party that you and your guests will both enjoy.
With that in mind, check out these 6 tips to hosting a stress-free holiday party.
1. Send out invitations early
Whether you're planning to hold a holiday party at your home or at another location around Dulles, make sure to secure a date and time and send out invitations as soon as possible.
This way, you can:
Avoid worrying about sending last-minute invitations
Create an accurate guest list and know how many guests will be showing up
Plan for how much food and beverage you need in order to accommodate all of your guests
Sending out invitations in a timely manner is a small task that has a big impact on how smoothly your party runs. Taking care of this ahead of time can help make sure that you're well prepared for anything unexpected and can help make your holiday party planning a little less stressful.
2. Create a theme for your party
Whether you're celebrating Christmas, New Year's Eve, or any other special holiday, make sure your party revolves around the theme and spirit of the holiday.
Create or purchase special foods and drinks and decorate around your theme, creating a festive environment that will put your guests in a party mood.
But there's no need to go overboard ‒ keep the decorations and other theme-related tasks simple and easy to complete.  The result will be less pressure on yourself and your guests will still appreciate the time you took to add special touches.
Keeping it simple will save you time AND money which equates to less stress and more fun for you and your guests!
Click here for more information on fun and simple holiday decorating ideas.
3. Don't hesitate to outsource!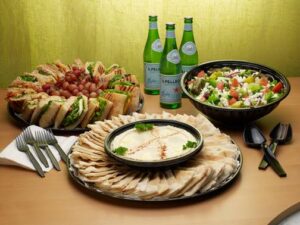 The most important thing you can do the day of your event is make sure you're available to your guests.  Whether greeting them at the door or chatting with them during the party, you want to insure you have plenty of opportunity to enjoy your guests and yourself.
While some brave hosts try to prepare all of the food for their event, you may find that outsourcing that task reduces your stress significantly.
Consider having your favorite local restaurant in Dulles cater the event.  You won't spend most of your evening running back and forth to make sure your food is prepared and cooked the way you like it.
Instead, you can set it all out before your guests arrive, making sure it's arranged attractively and set out throughout your party area.  You may have to spend a little time warming a few items up or replenishing platters as they empty but the time spent doing this is minor compared to the time you would spend preparing all the food yourself.
By hiring a restaurant to cater your Dulles holiday party, you can relax knowing your guests will enjoy every bite and you will enjoy every moment with your guests.
4. Add an interactive element to your party
Part of every successful party is making sure your guests feel engaged and depending on the size of your party, you can't be the only one to make sure everyone is having a good time.
Consider incorporating an activity that your guests can be a part of while feeling entertained.  For example:
A DIY s'mores making station
A white elephant gift exchange
A karaoke sing-off
Having a musician or other performer entertain your guests
Whatever you plan to do, make sure it fits the theme of your party and the group of people you invite.
5. Show appreciation
At the end of your holiday party, make sure to take the opportunity to thank your guests for stopping by and spending a part of their holiday with you.
A great way to say thank you is by giving your guests a nice, handwritten thank you card with a heartfelt message, or even a small parting gift to remind them of the holiday party fun!
A thankful and appreciative gesture will be remembered by your guests and is also scientifically proven to improve your overall health and reduce stress.
6. Make cleanup quick and easy.
Cleaning up after a party can be quick and easy if you keep these simple tips in mind:
Use disposable platters and serving dishes as well as disposable plates and flatware for your guests. You can purchase some great holiday patterns either online or at your local party store that will add to the festivity of your event.  Or you may choose to just use the disposable ware provided by your local Dulles caterer.  You should take into consideration the quality of the platters and other serving pieces that are provided when you select a caterer.
Consolidate food on platters and throw out empty plates and cups throughout your event. You may even want to consider hiring someone to help with throughout the evening.  Or even ask a friend or family member to help you out.
Send leftovers home with your guests – they'll love it and you won't have to deal with a fridge full of food the next day.
Ready to host your very own fun and stress-free party?
Well, if you're in Dulles, VA area and you're looking for an affordable catering service for your upcoming special event, contact Cafesano today!
Cafesano Mediterranean restaurant offers a unique assortment of fresh and flavorful Italian and Mediterranean foods that will delight your guests at your next special event.  Gluten free menu items and vegetarian options are also available so you can be assured of having something for everyone.
Feel free to check out our convenient online catering menu and ordering options, and let Cafesano help make your next holiday party a hit (and hopefully a little less stressful)!