Planning a corporate event can be difficult, especially if you are working with a tight budget.  There is a lot to prepare for and while budgets are customary for any type of event, one of your biggest concerns may be how to pull off a successful event while not appearing too frugal.

Luckily, there are some really great tips and tricks for hosting a productive corporate event on a budget.  Let's take a look at some of the ways you can plan a great event that leaves employees and guests happy, without breaking your company's bank account.
Tracking Your Expenditures
The first step to planning a corporate event on a budget is to prepare beforehand how you will track all of the event's costs.  There are many ways to go about this; it can be as simple as a flowchart outlining who is responsible for which task and their related expenditures or an Excel spreadsheet to record any costs you or your team encounter throughout the planning process.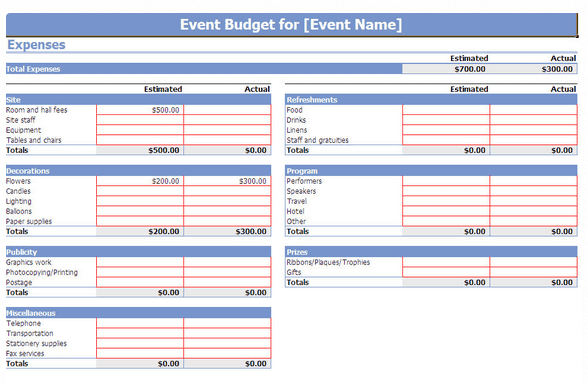 This is especially important if you have multiple people assigned to the event planning process.  With several people tending to their designated tasks, the chances of running over budget increase significantly.  The main point is to use a budget tracker of some sort that is accessible to all of the people involved in the event planning process.  This way you can easily monitor all spending.
Here are some of the main costs you may want to include on your budget template:
Venue
Speakers, paid guests, and other entertainment
Printing for leaflets, hard copy presentations, or programs
Rental equipment (including projectors, sound system, staging, and internet access)
Decorations and furnishings
Marketing and promotion
Catering
Determine the Event's Budget
Maybe your company has provided you with a set budget to work with, or perhaps corporate would like to see a list of approximate costs before making any budgeting decisions.  Whatever the case may be, understanding your budget before making any purchases or reservations will be the key to staying on track financially.
One thing you might want to establish before you decide on an approximate budget amount is the type of event you are hosting; is it an employee + one guest invitation, a pay at the door type event, or is the event sponsored?  Your budget will vary depending on the event type and will make a big difference as to how the finances are delegated.
Staying Within Budget
Here are some of the most essential things required to plan any corporate event and how you can easily stay within your company's allotted budget without sacrificing quality.
Invitations
Inviting your company's employees is one of the most important tasks to handle.  After all, if no one knows about the event, no one will show up!
One of the best ways to save money on corporate event invitations is to create and send them online.  Although seemingly taboo, you can rest assured that this process is now accepted more than ever.
Digital invitations are easy to create and there are several websites providing ways to personalize them to suit your event's theme.  Here are some popular sites that have budget-friendly corporate invitations to choose from.  In fact, some of these sites offer a free version so you can really save on your budget by keeping your invites simple.
Choosing a Venue
If your corporate event is going to be held offsite, then doing your research is going to help you stay within budget.  Here are some things to consider when choosing the perfect venue for your event:
Preferred dates (have a few in mind so you can price shop)
Room rates if hotel accommodations are required for your employees and their guests
The type and amount of event space needed
Reservation, deposit, and payment/cancellation procedures
Provided services and amenities and procedures for outside vendor services
Venue location
After finding a few possible venues, it is suggested you compile a Request For Proposal (RFP) for each, so you can weigh the pros and cons and get the best deal for your event.
Event Décor
One surefire way to help stay within your event's budget is to save on decorations.  You could start by choosing an attractive venue that requires little extra décor.  Or, maybe pick a venue that includes decorations in its rental costs (if this makes sense financially – again, research is the key!).
Another way to save is to keep it simple and search for better prices.  Look for family-owned vendors that can create things such as floral arrangements and centerpieces for less.  Better yet, enlist the help of your co-workers to help decorate the space in a minimalistic way.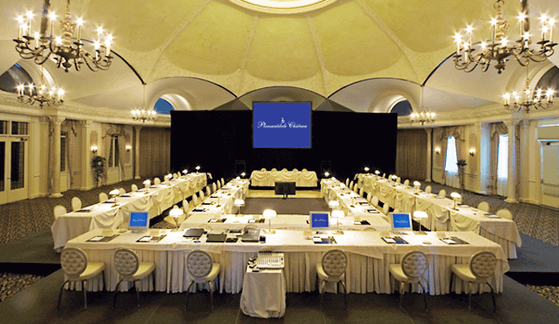 A beautiful looking setup can be achieved on a budget if you make use of all available resources and think outside-of-the-box.
Catering
It is commonly known that most party planners over-order when it comes to food.  Though it is normal to want to ensure there is enough food, by ordering too much not only do you waste food, but you waste finances as well.  This money could either be saved or used elsewhere in your event budget.
Try setting an approximate food budget and then reducing it by 10%.  This will generally leave plenty of food for the event and will save you lots of money in the long run.
Better yet, if you will be hosting your event in the Dulles, VA area, choose Cafesano to handle your corporate catering needs.  If you are catering on a budget and need flavorful and unique food for your corporate event, Cafesano Catering has you covered.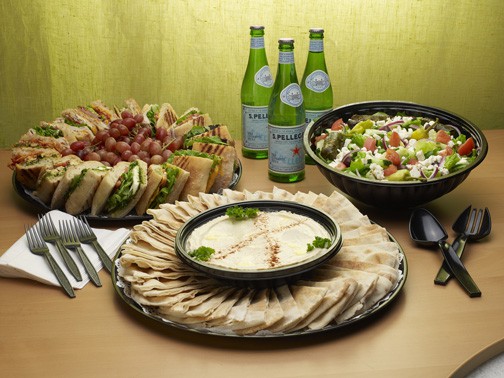 Cafesano Catering offers a perfect blend of Italian & Mediterranean menu items, convenient online ordering options, and will deliver straight to your Dulles corporate event.  Choose from an array of dishes ranging from lunch options, to light fare choices, all the way to full dinner options with main dishes and dessert.  No matter the type of corporate event you are planning (informal, team-building, or professional seminar) Cafesano's corporate catering menu has affordable options to choose from.
Need help putting together your corporate catering menu?
Cafesano has catering coordinators standing by to help you make your event a success.  Their professional staff has experience with many types of corporate events so catering for your company will be a breeze!  Helping you create the perfect catered menu from fresh salads and wraps to grilled skewers and pasta, Cafesano's coordinators will have selections sure to please everyone on your guest list.  They even offer specialized menu options for those who prefer vegetarian and gluten-free options.
Planning a corporate event takes more than just reserving a place and ordering some food.  It takes preparation and coordination and often comes with tight budget restrictions.
If you have been placed in charge of planning your company's corporate event on a budget, have no fear.   Following the above-mentioned tips and tricks will have you staying within your company's budget while pulling off the event of the year.
With a great looking venue, simple yet fabulous decorations, and delicious corporate catering from Dulles's favorite Mediterranean catering services, your employees will surely be excited to attend future corporate events.