Cafesano is pleased to announce the opening of their new and larger restaurant located in the heart of the well-known and popular Dulles Town Center.
Offering the same delicious flavors and warm dining environment that the popular Reston, VA location is known for, Cafesano's new restaurant hopes to bring the concept of great food that is healthy for you to the residents of Dulles, VA.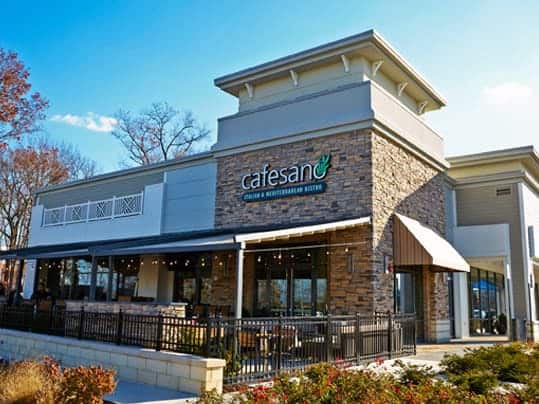 Highlights of Our New Dulles Town Center Restaurant
Take a look at some of the best features our Dulles, VA restaurant has to offer:
Spacious Seating. With seating available both inside and out, Cafesano makes sure our customers are comfortable.  Have a seat in the large indoor dining space.  Want to enjoy some fresh air?  Lounge outside comfortably watching TV on a warm summer night, or sit by the fire on a crisp fall evening.
Exclusive "Chef's Table." Designed for those celebrating a special occasion, or simply those with a large group, our private Chef's Table adds a personalized touch to your dining experience and can be reserved exclusively for your party.
Bar Service. As you enjoy the fresh Mediterranean and Italian flavor profiles your meal is sure to deliver, do not forget to indulge in your favorite wine, beer, or spirit.  Servicing both indoors and out, Cafesano's bar is sure to have a beverage that perfectly complements your meal.
Convenient Take-Out. On-the-go?  Not to worry!  Our dedicated take-out station is ideal for customers looking to enjoy healthy food selections on their lunch break or on their way home from a long shopping trip at the popular Dulles Town Center regional mall.  Order by phone, in the restaurant, or even online.
Catering Services. Recognized for our unique and affordable menu selections, Cafesano's catering menu offers an assortment of Italian & Mediterranean selections that are sure to make your lunch or event a memorable one.  Plan your next business meeting, office party, or family get-together and use the new Dulles location to cater your event.  Order online or speak with one of our Catering Coordinators for fresh ideas, and wow your guests with fresh, flavorful, and nutritious.
More about Cafesano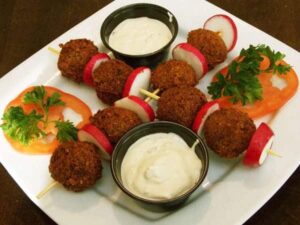 Cafesano is a quick-casual dining restaurant where patrons can enjoy the ease and convenience of quickly prepared fresh, flavorful, and healthy meals in a warm and inviting bistro environment.  Relax in our large dining room, sit at our bar, or enjoy our outdoor patio.
In a hurry?  Order take-out online and we'll have it ready and waiting for you at our dedicated take-out station.
Based on the Mediterranean diet, recognized by many as the healthiest diet in the world, Cafesano's Italian & Mediterranean cuisine includes fresh vegetables, select meats and dairy products, Mediterranean herbs and spices, and lots of olive oil!
With menu items full of bold and fresh flavor profiles, not too rich and not too spicy, our goal is to give people a healthy alternative to fast food dining and to demonstrate that "great taste" and "good for you" can describe the same dining experience   Choose from Paninis, Wraps, Salads, Brock-Oven Pizza, Kabobs, Pasta and More!
In addition, Cafesano's expansive menu includes plenty of selections for those who are vegetarian or require gluten-free options.  For instance, our delicious red pepper hummus, grilled vegetable kabobs, warm basmati rice, or authentic Mediterranean stuffed grape leaves are wonderful choices that are sure to satisfy many dietary restrictions.
Final Thoughts
If you are in the Dulles area and looking for a new place to eat that provides professional service, a warm environment, and freshly prepared Mediterranean and Italian food, come visit Cafesano's newest location.
Conveniently located in the Dulles Town Center Corridor, our newest restaurant is the perfect place to relax after a day of shopping ─ unwind with a glass of wine and enjoy a quick-casual dining experience that is certain to surpass your expectations and is guaranteed to keep you coming back!