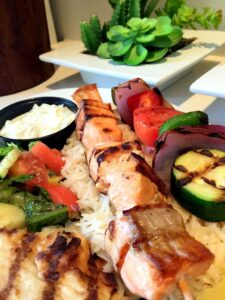 Your trip to Dulles Town Center is about to get a lot more fun!
There's a new restaurant in town with a menu full of selections that will provide you with that nutritious fuel you need to get through your day.
Looking to bring fresh and healthy menu items to more customers in a quick and convenient way, Reston's favorite bistro, Cafesano, has recently expanded to a new location in the popular Dulles Town Center area.
This new location expands upon Cafesano's quick-casual dining concept, while also offering a comfortable and inviting environment where restaurant patrons can enjoy flavorful Italian and Mediterranean food.
Why Cafesano's Restaurant in Dulles Will Be Your Favorite Summer Spot
With summer just around the corner, Dulles Town Center's Cafesano is sure to quickly become your go-to spot for dining that's fun, nutritious and convenient.
Let's take a look at why you'll quickly find yourself spending your summer at Cafesano.
Quick-Casual Dining at its Best!
A favorite restaurant in Reston, Cafesano is sure to also become a favorite in Dulles. Menu items are prepared fresh daily and offer bold flavor profiles from Italy and the Mediterranean.
Guests can choose from Paninis, Wraps, Salads, Brick-Oven Pizza, Kabobs, Pasta and more!  Cafesano's menu is full of light, fresh, and flavorful foods. Combining the convenience of a quick casual restaurant with fresh and nutritious menu items, Cafesano makes eating healthy easy and delicious.
Perfect Spot for a Summer Drink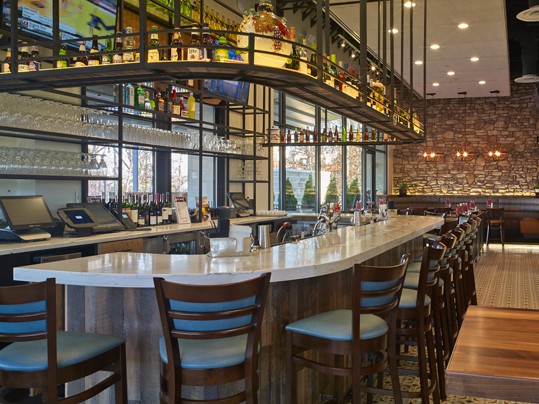 Our wine, beer, and cocktail selections are certain to satisfy your thirst on a hot summer's day.
Enjoy your drink on the patio, or inside the cool air-conditioned bar.
Sip on a beer while watching the game, enjoy a glass of wine after a day of shopping at the nearby Dulles Town Center, or celebrate a special occasion with a summer cocktail.
Whatever your drink preference, Cafesano is the ideal place to relax and enjoy your beverage of choice with friends and family.
Party Central
Got a party coming up this summer? If you want your party to be a major success, then look no further than Cafesano.
From end-of-the-year school parties, to family reunions, to birthdays, or just an escape from the dull office air, Cafesano is where the party is at this summer.
No matter what size your party, Cafesano has flexible catering services that will insure all your guests are happy. Don't stress about trying to plan the food for a party on your own – hire Cafesano to take care of it for you.
Our catering team will work with you to plan a delicious meal that your guests are guaranteed to love.
From dip platters and salad bowls to Panini and Wrap platters and pans of pasta, we offer a variety of Italian and Mediterranean favorites.
And for those with dietary restrictions, our Gluten Free menu will insure there's something for everyone.
Lots of Space for Your Kids and Their Friends
Cafesano's Dulles Town Center location is big. Really big. With a location that's incredibly convenient.
There's plenty of seating for your kids and their friends – and Cafesano may just become their favorite summer hangout. With school out of session, there will be more time for meals out with family and friends.  We guarantee our menu will please and will have them wanting to come back again and again!
Dad Will Love It Too!
Not sure what to get that special dad in your life for Father's Day?
How about his favorite meal at Cafesano?!
Enjoy a fun and casual outing, that's tasty and healthy too, when you bring him to Cafesano. Lunch or dinner on the patio with his favorite summer drink is sure to be a win. Or how about giving him a gift card so he can enjoy Cafesano whenever he'd like?
It Just Keeps Getting Better at Cafesano's Dulles Town Center Location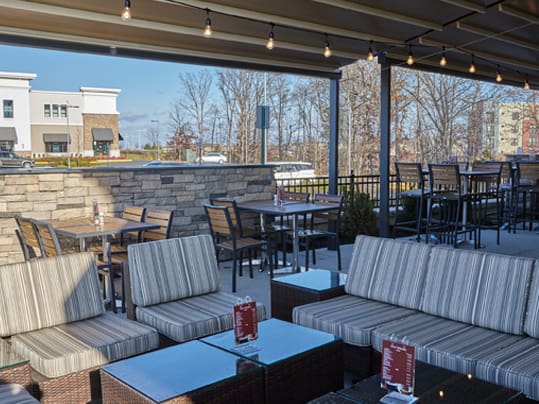 Guests can take-out or dine-in, so whether you've got a couple minutes in between meetings to grab some food, or a couple hours to sit down and have a leisurely lunch with friends, you can count on Cafesano taking care of you.
Our dedicated take-out station will insure you're in and out quickly. And a variety of seating options in our dining room and on our outdoor patio will guarantee your comfort, regardless of how long you stay.
The same menu that Cafesano customers have come to know and love at our Reston location is also offered at our restaurant in Dulles. From our Chicken Shawarma Wrap, to the Atlantic Salmon Kabob Platter, Penne Arrabbiata pasta, and more, Cafesano's extensive menu has something for everyone.
For your convenience, online ordering is available for both take-out and catering at either of our locations.  Check out our website and see how easy it is.
Gluten-free options have become a favorite amongst Cafesano customers, and those options are also available at our Dulles location. At Cafesano, you won't feel like you're missing out on your favorite foods just because you can't eat gluten.
In addition to bringing the same flavorful menu and superior customer service from our Reston location to our new spot, the Dulles restaurant offers the following:
Cozy Bar: With wine, beer, and spirits to perfectly pair with your tasty food, Cafesano's bar offers both indoor and outdoor service. And don't forget Happy Hour every Thursday from 5:00 – 7:00 pm
VIP Chef's Table: Cafesano in Dulles offers a private Chef's Table where you can celebrate a special occasion, enjoy a great meal with a large group, or just enhance your dining experience. The table can be reserved to be enjoyed exclusively by you and your guests.
Outdoor Lounge/Patio: The star at Dulles Town Center's Cafesano may be our outdoor lounge/patio area. With lounge and table seating, and fresh air to go with your fresh food, the patio is sure to become a favorite. If it's a bit on the chilly side, grab a seat by one of our fire pits where you can enjoy your food and warm right up. We also have TVs on the patio, so you don't have to miss out on your favorite show or game while enjoying your meal.
Ready to check out our Dulles restaurant for yourself?
Head on over to Dulles Town Center today to see what the buzz is all about!
Enjoy a quick-casual dining experience that is certain to surpass your expectation and is guaranteed to keep you coming back!