In our last post, we discussed the Mediterranean Diet and how following the guidelines can help you live a longer and healthier life. We even provided you with a general shopping list to take with you when you head to the grocery store.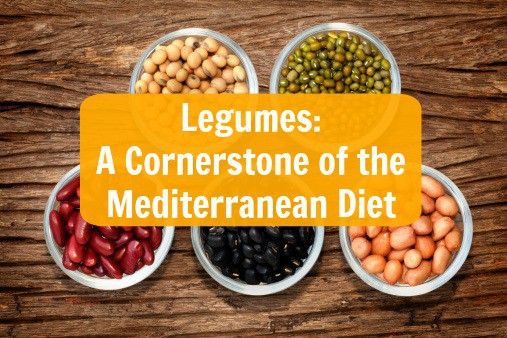 This month, and for the next few months, we are going to highlight a specific food group on the Mediterranean Food Pyramid.
We'll explain the components of the featured food group and discuss the benefits of adding it to your daily diet.
We will even help get you started with quick and simple recipes that feature that month's food group. This month, we're focusing on legumes.
The What & Why of Legumes
Legumes are a family of plants that include beans, peas, and lentils. Peanuts, soybeans and even some grass-like plants, like clover and alfalfa, are also classified as legumes.
Legumes are essential to a healthy diet. In fact, legumes are also known as pulses – an excellent way to remember just how heart-healthy they are! Legumes tend to be low fat and cholesterol-free.
You probably know that legumes are high in protein and dietary fiber.
Do you also know that legumes are great sources of other nutrients like:
Potassium – which helps break down carbohydrates and control the electrical activity of the heart
Folate (folic acid) – which helps tissues and cells to grow and function properly
Magnesium – which is involved in more than 300 biochemical reactions and is important for nerve and muscle function, regulating glucose levels, and producing energy and protein
Phosphorus – which is present in every cell of the body and contributes to a normal heartbeat
Legumes are also nutrient-rich in iron. Beans, peas & lentils contain high amounts of beneficial fats and dietary fibers. This makes sense because the edible parts of legumes are usually the seeds of the plant. The seeds need these nutrients in order to grow.
Lentils are recommended in several diets, including vegan and vegetarian, because they are a healthier means of obtaining the protein your body needs than red meat.
When discussing the Mediterranean Diet, some common examples of legumes are chickpeas or garbanzo beans. The chickpea is a versatile legume and can be used in a number of surprising (and tasty) ways.
Did You Know?
There are over 18,000 different species of legumes.
Because of their high fiber, legumes make you feel fuller longer, so incorporating them into your diet can help support your weight loss goals.
The American Diabetes Association, the American Heart Association and the American Cancer Society all recommend legumes as one of the most important food groups for disease prevention and optimal health. *
Not only are they healthier than red meats, legumes are easier on your budget. You can buy dried beans for a fraction of the cost of a pound of meat.
Some gluten-free flours are made from legumes like chickpeas and soybeans.
Legumes aren't just for side dishes. They can be the star of an entree, like in a hearty stew, or a sweet surprise in a dessert like chocolate chickpea truffles.
10 Quick Ways to Add Legumes to Your Diet
Add chickpeas, split peas, or lima beans to your favorite salad.
Snack on foods like peanuts, roasted chickpeas or edamame (See recipe below)
Add soy products like tofu, soy milk or soybean sprouts to your favorite recipes
Add black beans to your morning omelet or scrambled eggs
Add white kidney beans to your favorite tomato-based pasta sauce
Swap your usual chicken noodle soup with minestrone or lentil soup
Substitute hummus for mayonnaise on your favorite sandwich
Add chickpeas, peanuts or soybeans to your favorite stir-fry
Serve legumes instead of, or with, rice as a side dish.
Make dips for vegetables and chips, like hummus, by pureeing different legumes.
Real-World Recipes: Cooking with Chickpeas
If you have gone down the gluten-free aisle of the grocery store, you have probably seen a variety of snacks that are made from legumes. Some new companies are offering roasted chickpeas and edamame as alternatives to higher calorie snack foods.
Unfortunately, these are usually packaged in small quantities and cost more than your average bag of potato chips.
But have you ever thought of making these legume snacks yourself?
Here is a base recipe for roasted chickpeas. You can add your own spin to it by adding various spices for different flavor combinations.
Basic Roasted Chickpea Recipe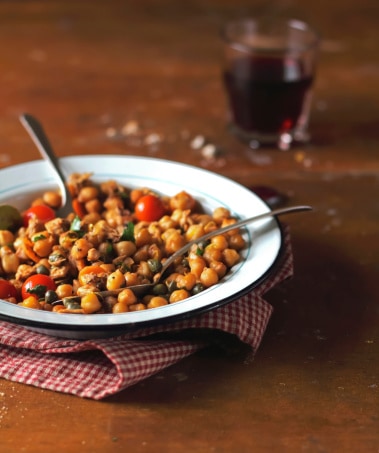 We recommend using dried garbanzo beans instead of the precooked and canned option. Dried chickpeas tend to turn out crispier than canned. To prep, simply soak the beans overnight.
You want your oven to be nice and hot, so preheat it for 400⁰F.
Dry your chickpeas with paper towels, and be sure to take off any peeling layers or let them air dry for 30 minutes.
Then toss them in a bit of olive oil and your selected spices.
Next, place them on a lined baking sheet and bake for about 45 minutes to an hour, or until they are golden and crunchy.
Suggested Flavor Combinations
Garlic and Parmesan – Garlic powder and finely grated parmesan or Romano cheese
Sea salt and Vinegar – Ground sea salt and malt vinegar
Southwest Spice – Cumin, chili powder, lime zest, salt and garlic powder
Cinnamon and Sugar – Cinnamon, nutmeg, and granulated sugar (or sugar substitute)
Chocolate and Coconut – Dutch cocoa and toasted coconut
Tomato and Basil – Sun-dried tomatoes, garlic powder, parmesan cheese and basil
Looking for More Legume Love?
If you are looking for something a little heartier than roasted chickpeas, look for other recipes featuring legumes like split pea soup or traditional Mediterranean falafel.
If you would rather take a break from cooking at home, and are looking for a restaurant in Dulles Town Center that features Mediterranean food, consider dining with Cafesano.Whether you're on your lunch break, or looking for a wholesome dinner for the entire family, we have fresh and flavorful menu selections certain to satisfy everyone!
If you prefer take-out service in Dulles, we'll make it real easy for you with our online ordering system. We'll even keep a record of what you ordered so your next order will be even easier and you can make eating healthy even faster!
*Sourced from "Cooking with Legumes" by Dr. Weil