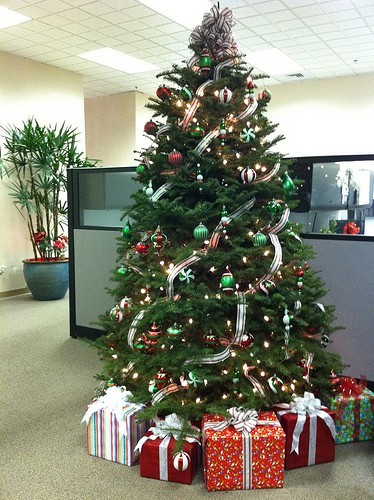 Let's face it: a holiday party is probably the last thing on your mind right now as you're trying to wrap up this year's business and meet your company goals. But that doesn't mean you can't still plan for a holiday party.
Although some preparation is necessary, it can be a fun and stress-free process.  Just follow these easy steps to organize the perfect business holiday party, one that will be talked about and fondly remembered by your team for years to come.
Settle on a venue
This dilemma can be easily solved by hosting the party right in your own office space. This especially makes sense if you run a small or mid-sized business. You'll save a significant amount of money not having to rent a room or hall at another facility – more to spend on food and entertainment!  Your employees won't have to sit in traffic and you can get the party going earlier. And any holiday decorations you put up can be enjoyed by you and the rest of your team for the entire holiday season!
If you do decide to hold the party off premises, take a minute to think about your personal and professional networking connections. Maybe one of your clients has a large conference or convention facility they could offer at a discounted price? Maybe your office building has a penthouse or empty office space you could rent for one night? Take advantage of your existing business connections and be sure to invite your colleagues to the party.
Rethink the entertainment
Planning to hire professional entertainers? Stop and think about this for a second. While you don't want the party to get boring, traditional entertainment, such as hired musicians, illusionists and other performers, might not be the best way to go.
An office party offers the perfect opportunity for your employees to spend some down time getting to know each other a little better. Consider the kind of entertainment where your employees can interact with each other and become a part of the "entertainment" instead of being passive observers. Here are a few ideas:
Have everyone decorate a holiday tree
Set up an ornament or gingerbread man decorating station
Build-a-(name it) shop where employees can design gifts for each other
Have an award night to celebrate your company's growth over the past year
Additionally, you might want to consider having entertainment provided by your own staff if they are up for it. The chances are good, they have many talents you don't know about. You might have a talented singer, musician, dancer or comedian in your midst. Provide them with an opportunity to take the stage.  Not only do you get free entertainment, but also a chance to improve the company morale and shine the spotlight on the unknown heroes who are the backbone of your business.
Book catering in advance
Holiday party catering is crucial to the success of your office party.  Don't ask employees to participate in a pot-luck.  It might sound like a good idea, but your office party should be a time for your employees to relax and enjoy themselves. You are better off placing a catering order with your favorite local restaurant – a place that everyone knows, loves and frequents.
At Cafesano, we receive many requests for holiday party catering throughout Reston, Herndon, Tysons Corner, Great Falls and other locations in Northern Virginia. Our advice to our customers is to finalize and place your holiday catering order well in advance since the holiday season keeps caterers busy.
 Here are a few tips to keep in mind while planning your  catering menu:
Offer a variety of menu items so you're sure to cater to even the pickiest eaters. Don't forget to offer some vegetarian options.
Dips, such as a hummus dip or Baba Ghanoush, make great appetizers.  Add some falafel and grape leaves for appetizers that are different and healthier than your usual cheese and cracker trays.
You can't go wrong with platters of wraps and Panini. They're easy to pick up and eat and if you select a variety of fillings, you're sure to satisfy everyone's flavor profile!
Pasta dishes are always a winner – they're filling and who doesn't love pasta!  Pair it with a simple Caesar Salad and nobody will go home hungry.
Keep the food warm with the help of disposable chafing pans and fuel cans. Your caterer is likely to carry these items (at least we do), so ask them!
Everyone eats too many sweets over the holidays – and gets tired of them fast.  Keep the desserts simple with small mini bites of baklava and assorted cookies and brownies.
Don't forget about the decor
You don't have to go all out on the décor, but do have something festive. You could ask employees to decorate their own cubicles, desks or offices to set the holiday mood. A little greenery goes a long way – consider incorporating wreaths and garlands.  Poinsettias – red and white – in gold wrapped containers are a festive addition and will dress up your buffet table.  If you can fit an artificial tree somewhere in the office, that would be great as well. When the party starts, think about ditching the fluorescent lighting and switching to holiday lights or LED candles.
Make a difference
You could tie your office party to some special cause to make it even more meaningful. Do a raffle, a fundraiser or ask your employees to donate clothing, food or other items to a local non-profit that will distribute them to families in need.
Do you have a good or bad experience planning an office party? Please share your insights in the comments.