The secret to any great dish is fresh ingredients. Growing your own herbs and vegetables is like having a fully stocked pantry of fresh goods at your fingertips. but, if you live in an area with limited space, or lead a busy life, you might not think it's possible to have a garden.
We're going to help you plant your own garden AND fill it full of Mediterranean flavors.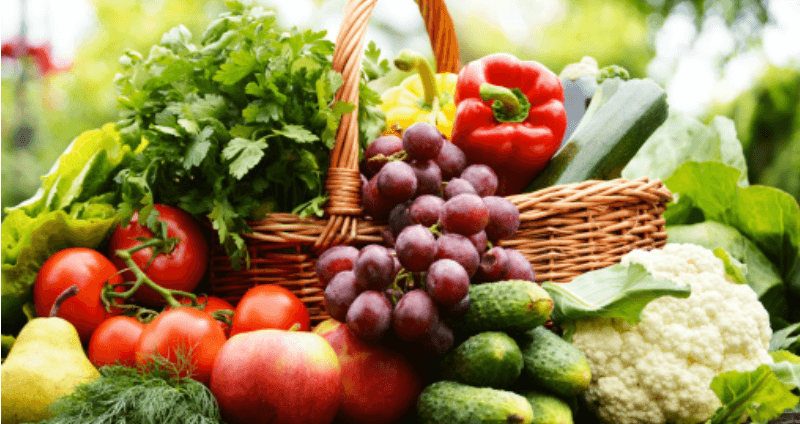 Small gardens, planted with Mediterranean herbs and vegetables, are easy to manage and take up little space. That is why they are perfect for on-the-go families or families with limited space in the Northern Virginia area.
What to Plant
We've cultivated a list of herbs and vegetables that are commonly found in Mediterranean cuisine and are fairly easy to grow. most of these plants are low maintenance and, if grown outside in temperate climates, won't need a lot of care.
Herbs
Herbs can add bold flavor profiles to your recipes and they grow very easily in the Northern Virginia climate.

You can find basil plants ready for planing in most grocery store in the produce section. Basil is a great low maintenance plant that provides lots of flavor for sauces, sandwiches, and soups. As with any plant in your garden, just be sure that it has a steady supply of water to keep it green and healthy.
For best results, place your oregano in a sunny spot. Oregano doesn not need a lot of water and if you are using a container garden, you can plant it with other herbs and not worry about the soil getting too dry with multiple plants.
One thing that makes oregano unique is that it has stronger flavor when it's dried, than when it is fresh. Throughout the season, snip leaves and hang them up to dry in your kitchen. You can also freeze oregano leaves to use in the winter.
Chives are very low maintenance – so much so that they may take over your garden! For that reason, chives are perfect for container or wall garden, because they have limited space to grow. Regardless, it is still important that your chives receive plenty of water throughout the season.
Trimming rosemary is an important party of caring for the plant. Once the herb has flowered, you want to be sure that it is pruned so that it maintains its health. Rosemary is a great plant for container gardens because in the winter, it can still produce if it is kept inside the home. Use rosemary for savory poultry dishes or sauces.
Vegetables

Tomatoes are a must for many Mediterranean dishes. There is a cornucopia of different varietals of tomatoes; you can choose from cherry tomatoes to Roma to beefsteak. For simple and traditional marinara sauces, you will want to plant Roma tomatoes. Most tomatoes need support, as the fruit can weigh down the plants. This means that you will need to stake, trellis, or cage the plant's vines.
Unfortunately, we aren't the only ones that love tomatoes. Tomatoes are susceptible to pests, so keep an eye out for bugs in your garden. There are ways to naturally protect your plants from unwanted insects and your local nursery is a great source for organic and natural treatments to safeguard your plants from pesky bugs.
Banana or bell, pick a pepper plant to grow in your garden. Peppers are a great way to add flavor to any dish.
Like tomatoes, peppers can attract pests, so be on the lookout for black spots on your plants. Peppers are temperature-sensitive, so be sure they have enough water daily. For sweeter peppers, leave them on the plant longer before harvesting.
Perhaps the msot finicky of the plants we have on our list, the eggplant is for more intermediate-level gardeners. If you decide to grow eggplants in your garden, be sure to plant the seeds well into spring, as frost will lead to a disappointing harvest. Like certain varieties of tomatoes, the eggplant needs support, so you will need to provide a stake or cage for these plants.
Check this chart to see when Northern Virginia is out of any danger of frost.
Like the eggplant, it is best to plant zucchini when the soil has been consistently warm. Zucchini needs a lot of water, so be sure that you don't let your soil go dry. Use zucchini for a healthy, hearty side or as an addition to pasta dishes and sauces.
There's nothing more rewarding to a gardener than gathering a variety of herbs and fresh vegetables at the beginning of a warm summer day and using them to prepare your meals for the day. We hope we've given you ideas that will get you started with your own Mediterranean garden this summer!
Hungry, but Don't Want to Wait Until Harvest Season?
If the thought of gardening still scares you, but you are hungry for fresh Mediterranean flavors, consider dining with Cafesano in Reston, VA. Whether you're on your lunch break,  or looking for a wholesome dinner for the entire family, we have fresh and flavorful menu selections certain to satisfy everyone! If you prefer take-out service, we make it really easy for you with our online ordering system.