Fresh Flavors of Summer in Reston
At Cafesano, there's nothing we love more than the fresh flavors of summer. From bright red, sun-ripened tomatoes to creamy and nutritious avocado, we love incorporating these flavorful and healthy ingredients into our quick-casual Mediterranean & Italian fare at our restaurant in Reston, VA. Here's just a few of our favorites.
Tomato
If you've visited the farmer's market recently, you already know how delicious fresh, locally grown tomatoes can be.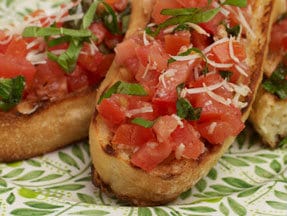 We love this colorful addition to our salads, Panini & wraps, bruschetta, and, of course, pizza. Did you know tomatoes are one of the healthiest foods in the world? They're an incredible source of lycopene, the agent that colors them red.
Lycopene is a rich antioxidant, helping to improve bone health. There are literally hundreds of different kinds of tomatoes, and every one of them is chock full of antioxidants, which also makes them great for heart health. Tomatoes also provide plenty of vitamin C, vitamin E, and beta-carotene.
Eggplant
Deep purple, glossy, and gorgeous, eggplant is one of our favorite ingredients, and can be found in many Mediterranean dishes.  Baba Ghanoush, one of our popular home-made dips, is made with fresh roasted eggplant puree, combined with tahini, yogurt, fresh lemon juice and garlic.    Our guests enjoy it on warm, grilled pita bread or with assorted fresh veggies. Eggplant is also featured on our Melanzana pizza where it's thinly sliced and lightly fried and added to basil, freshly shaved Parmesan and mozzarella cheeses and tomato sauce
Eggplants are producers of a potent antioxidant known to protect cell membranes, particularly in the brain. Eggplant is also beneficial to the heart, and can significantly reduce cholesterol in the arteries and aorta. It may also help improve arthritis symptoms and provides high amounts of dietary fiber, vitamin B, and vitamin K.
Avocado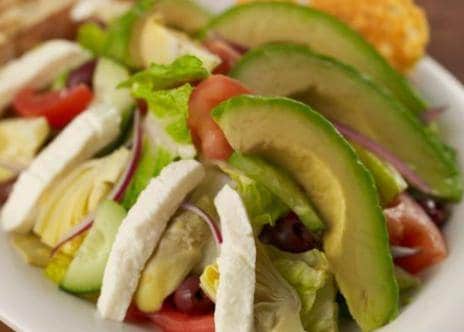 Summer is avocado season, and we love avocado. It pairs beautifully with fresh tomatoes in our Avocado Bruschetta and our zesty avocado mix makes our Avocado Dip a popular choice with guests.  Generous slices of avocado are laid on top of our Signature Salad and our Avocado, Tomato & Asiago Wrap is a summer favorite.
Many folks think avocados are a vegetable but they're actually a fruit.  They promote heart health and are chock-full of vitamins E and K, potassium andmagnesium.  They also have a lot of dietary fiber and can help with weight loss. They're rich in "good fat," and offer a wide range of anti-inflammatory benefits, which can help joint disorders like arthritis. Finally, they're full of carotenoid antioxidants, supporting cardiovascular health and helping the body regulate blood sugar. They may also help prevent certain types of cancer.
Basil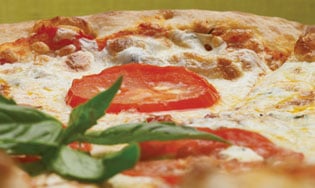 Nothing says summer more than the fragrant smell of basil.  Backyard gardens and patio pots are full of this easy-to-grow, popular summer herb.  Our home-made basil pesto is a star ingredient on our Caprese and Grilled Chicken Parmesan Panini.  Our #1 Margherita pizza is full of fresh basil leaves and we use it as an attractive garnish on almost all of our Pasta dishes.
Basil is full of vitamins A & K, calcium and iron.  It boasts a wide array of antioxidants and has natural anti-inflammatory properties.  What's not to like about basil!
Local Dining with These Fresh Flavors
Cafesano is the go-to restaurant in Reston, VA where guests enjoy a wide variety of Mediterranean and Italian menu selections full of freshness and bold flavor profiles sure to satisfy everyone, including gluten-free and vegan/vegetarian guests. With take-out and a unique catering menu, both made easy with online ordering, Cafesano is ready to satisfy your every dining requirement.
For quick and casual in-restaurant dining, home or business catering or delicious and convenient take-out meals, consider Cafesano – a popular Mediterranean & Italian restaurant in Reston, VA.