There are plenty of caterers to choose from in Northern Virginia, and companies should take advantage of every opportunity to win points with their clients. While the catered meals that you provide to potential customers may not make the difference in whether or not you close a deal, they can certainly influence those clients' perception of you and your business.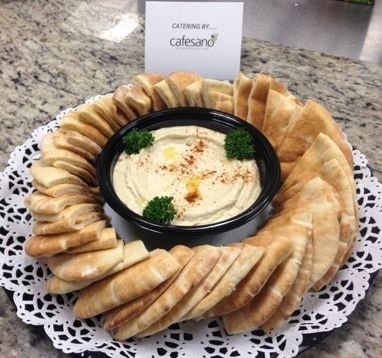 Food that doesn't taste good, that's limited as to choices and/or that's presented sloppily makes a very poor impression on your guests. When you offer fresh, flavorful, attractively-served meals, on the other hand, it's easier for them to see your company as a quality organization that knows how to take care of its clients.
To ensure that you'll be giving your customers a memorable meal—memorable in a good way—here are some questions to ask when you're interviewing companies that provide catering in Reston, Herndon, and surrounding areas of Virginia, for your next business event.
1. Is the menu interesting and does it include items that satisfy special dietary requirements?
Business people get tired of the same catered lunch choices – deli platters with pasta salad, chips, pickles and cookies seem to be the quick and easy norm. Find a caterer that's offering something a little unique, perhaps with an ethnic flair. Mediterranean and Italian catering menus are popular today, especially since they tend to focus on healthy, yet flavorful, menu items.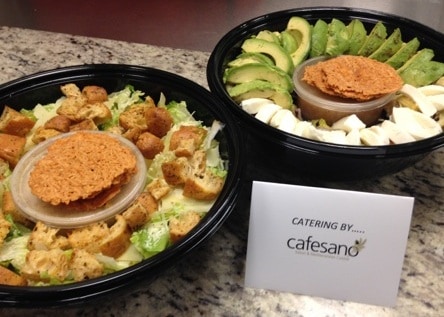 Additionally, more people than ever seem to be following special diets—vegan and vegetarian, gluten-free, dairy-free, low-salt, etc. When you're planning a business meal for important clients, you want to be sure that you make every possible effort to accommodate their various needs by providing a variety of foods. The catering company you choose should be able to suggest main dishes and/or accompaniments to accommodate your guests' dietary requirements as much as possible.
2. Can you arrange for a tasting?
You're probably not going to take this step if you're talking about occasional lunch meetings in your office, but if you're sponsoring a big event with a potential of generating lots of business you'd better have at least a few people from your office sample potential menu items and give their opinions.
3. Can they provide references from other business customers?
You'll want to know if the catering company you're considering will deliver meals on time, if the food is good, if the presentation is attractive. There's no one who can provide that information better than current clients of the company that's providing your catering around Herndon and Reston. Those clients will be speaking from experience. So be sure to ask potential caterers for long-time references—companies that have used them for a year or more—and follow up with those references.
4. Do they specialize in events of a certain size and can they offer you special services that you might need?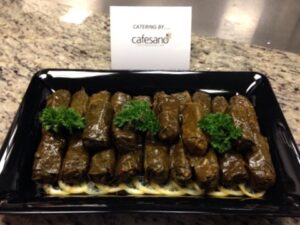 While the caterer that you currently use may be exceptional at providing outstanding lunches for business meetings of 20 people in your office, they may not be up to the task of handling refreshments for 200 people at a product launch offsite.
Ask a caterer how much experience they've had in handling events of the size you're anticipating (and get references from clients who have used them for events of that size as well). Do they have a Catering Coordinator who can help you finalize a menu? Can they provide sufficient plates, cutlery and any necessary chalfing dish set-ups? Do they deliver? Don't assume anything; go over every detail of your event so there are no last-minute, unpleasant surprises.
5. Is placing an order easy and convenient?
Are you able to find menus and pricing online? If necessary, can they provide you with a written proposal up-front for your catered event that includes all pricing and reflects the all-inclusive final price you'll pay?
You don't want to get to the stage where you've selected a caterer and then they present you with a detailed contract that's full of provisions that aren't acceptable to you. If you're looking for a caterer who can handle events for you on a regular basis, can you open an account and pay online? Will they keep a history of past orders for your review?
6. Is your caterer someone you'd use again – and again – and again?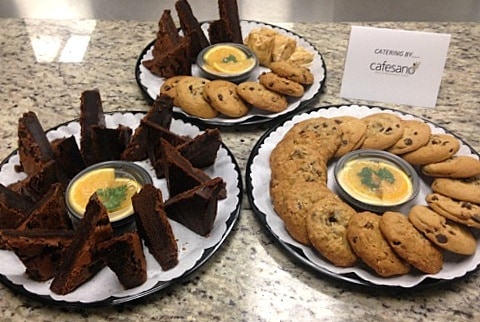 We've all worked with vendors that go the extra mile in making sure we get the product/service we need, when we need it. Does your caterer help you out when you're in a pinch? Can they accommodate your customized requirements? Do they make it obvious that they'll do what it takes to get your business and keep your business? Are they interested in establishing a long-term business relationship?
Which qualities are most important to you when choosing a caterer in Virginia?