CATERING IDEAS
Need help planning your next catered event? One of our catering coordinators would be happy to discuss your ideas and help you make your event a success. We've catered in Northern Virginia to many different types of events and businesses. Our courteous, professional staff will make sure everything is delivered on time and set up quickly. Our goal is to please you and especially please your guests! Call or email us at catering@cafesano.com.
Types of Events We Cater
Our catering menu items are full of freshness and perfect for every kind of event. Here's a sample of some of the types of events and special occasions we're frequently asked to cater:
Corporate Lunches

Business Meetings
Sales Meetings
Special Events
Awards Banquets
Athletic Events
Birthday Parties
Graduation Parties
Retirement Parties
Family Reunions
Holiday Gatherings
Planning the Menu
We'll work with you to plan a delicious menu all your guests will love. Our selection of catered Italian and Mediterranean food offers something for everyone, from fresh salads and wraps to kabobs and pasta. Here's a few catering ideas that may work for you:
Holiday Parties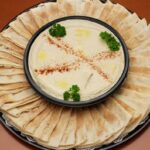 Whether you're planning a festive holiday party for the office or entertaining at home with family and friends, our unique and affordable catering menu selections will ensure that your party planning is stress-free.
Lunch Meeting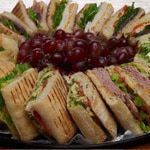 Our large selection of Panini sandwiches and flavorful wraps are a popular and convenient choice for catering busy lunch meetings. Choose your own sandwich assortment, add one or more of our popular Salad Bowls and top it off with an assorted Dessert Tray. Everyone will be ready to get down to business!
Light Fare
For informal gatherings where light hors d'oeuvres are appropriate, try our homemade appetizers served by the piece. Choose from Falafel, Cheese & Spinach Pies, Fresh Fruit Platter, Cheese & Cracker Platter and Mini Grilled Skewers. Pair with one or more of our fresh Dip Platters of Hummus, Red Pepper Hummus and Tzatziki. Order enough for the crowd!"
Grilled Meats and Pasta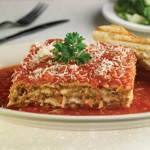 Are you planning an event outdoors? Our selection of Grilled Skewers and Kabobs (chicken, salmon, shrimp & steak) is perfect to enjoy at casual gatherings in your back yard. You may want to consider pairing with our popular pasta dishes like Penne Arrabbiata or Lasagna, served with grilled ciabatta.
Vegetarian Selections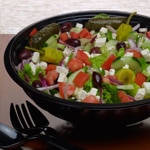 Our wide variety of salads made with the freshest possible ingredients and served with homemade dressings are some of our most popular items. Recognized as a vegetarian restaurant, we also offer vegetarian Panini & Wraps, like our Caprese Panini and our Hummus & Greek Salad Wrap, as well as Vegetable Kabobs and Falafel.
Desserts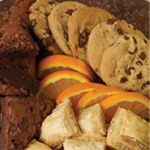 Don't forget dessert! Cafesano offers a tantalizing selection of sweets for your catered event, including fresh-baked Baklava, Brownies and Cookies. Our traditional Mini Cannolis are also popular. Order a dessert tray with an assortment of everything to top off your meal!