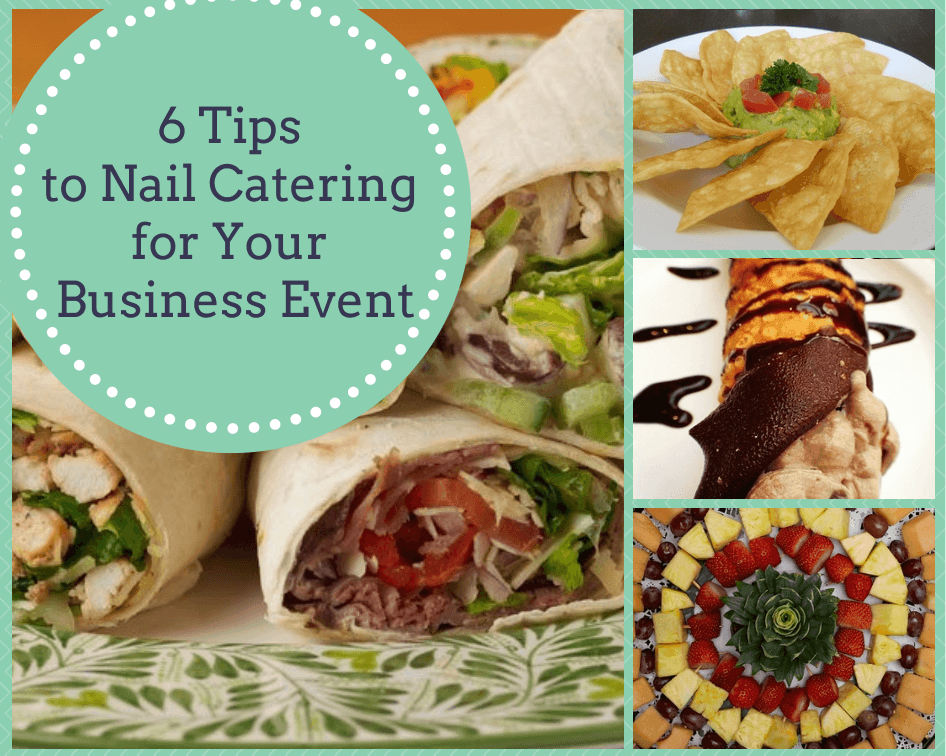 Food is a great motivator. Whether you are hosting a workshop, a networking event, a celebration, a fundraiser or any other type of business event, you are likely to get more attendees if you include a complimentary breakfast or lunch in the program. Of course, people won't come to your workshop just for the food, but a free lunch may just be the bonus to help someone who's in doubt make a decision to attend.
Although you can certainly set out snacks yourself, a nicely catered food presentation will impress your guests and help reinforce a positive image of you, your company and your product or service.
Make use of these tips to create a catering menu that will be a hit with your guests.
Offer novelty and variety
Think about how often business people are in luncheon meetings these days.  Imagine how many chicken wraps, tuna sandwiches and potato salads they consume in a year. If you are looking to impress, think outside the box. Select a specific cuisine, such as Mediterranean; or if your guests are from out of town, get them to try foods with local flavor.
At Cafesano, we've been providing catering in Reston, Great Falls, McLean and other areas in Northern Virginia for over 5 years and have received only positive feedback from our patrons. Here are some of the catering menu items that are popular with our catering clients:
–   Dip Platters that include Hummus, Tzatziki and Baba Ghanoush are a healthy alternative to cheese and crackers and are perfect as an accompaniment to a lunch menu or for an afternoon snack break.
–   Panini Platters. Choose the classics like Roasted Turkey & Cheddar and Grilled Chicken Parmesan, or surprise your guests with Grilled Portobello, refreshing Caprese or zesty Avocado & Cheddar Panini.
–   Pasta dishes are always a hit. Our Penne with Basil Pesto and Lasagna Emiliana go nicely with either a Greek or Caesar Salad Bowl.
Be thoughtful
Each one of your attendees has different food preferences, and it's almost impossible to make everyone happy. However, your efforts and thoughtfulness will always be appreciated.
Consider including kosher  and vegetarian options
Offer healthy, low-calorie food for the health-conscious attendees
If it's not obvious, label meals and list common allergens (like peanuts)
Avoid serving food that is too spicy, too salty or too sweet
Think about desserts for lactose intolerant people (consider our signature baklava)
Buffet style works great for most small events
A buffet is very easy to organize and allows your guests to choose their own food as well as food portion. Keep in mind that you can have guests go down both sides of a buffet table – this will speed up the process and get everyone to their seat quicker. At the end, you can visually assess which menu items were popular with your guests – that's great feedback to have for your next event.
Presentation is important
Your food may taste delicious, but it should look as good as it tastes! Messy food arrangements or sandwiches that are falling apart don't say "professional" and may discourage your guests from trying the food. This is why it's important to hire the right caterer. At Cafesano, we understand the importance of food presentation and work hard to ensure that all our catered menu items are attractively presented and create a mouthwatering first impression.
Make sure the food is fresh
Quality is important, so make sure your catering menu selections are freshly prepared by your Northern Virginia catering service – preferably within a couple of hours of your event.  Food that has been prepared too far in advance is either going to dry out, lose its crispness and freshness or potentially begin to spoil. Rather than reheating food, consider warming trays & Sterno set-ups, so that food can be kept warm until you're ready to serve it.
When in doubt – consult!
If you are not sure how to plan for your catered event, don't just wing it – consult with a catering company. At Cafesano, our Catering Coordinators will help you make menu selections and determine the appropriate quantity of food, working with you to ensure your event is a success! Just give us a call at 703.391.2100. If you decide to use our automated online ordering system, a record will be kept of all your catering orders for easy reference in the future.
What types of foods are you excited to find at a business meeting?