Want to impress your guests at every event you host? Let Cafesano in Northern Virginia handle the catering for you.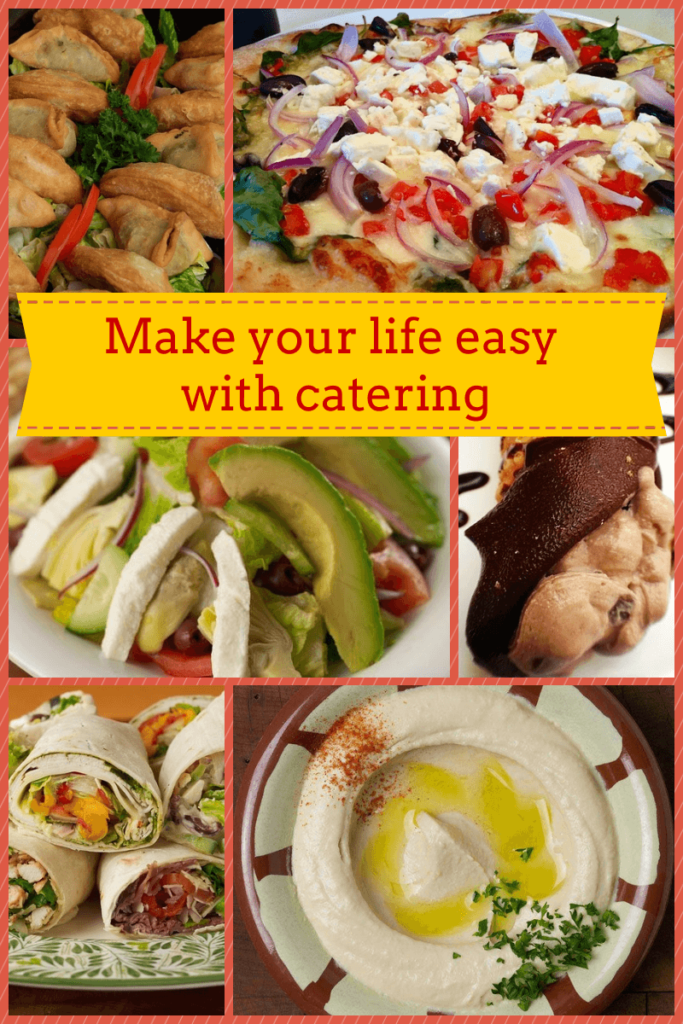 What's the first thing that comes to mind when you hear the word "catering?" You are probably picturing a wedding or a large business meeting of some sort.  While these types of events do frequently utilize catering, there are many other smaller occasions when a caterer can lend you a helping hand.
Consider Catering for Family Events
Whether it's watching the Olympics, hosting a baby shower or celebrating grandma's birthday, don't hesitate to ask your favorite restaurant to take care of the food. Consider this:
Catering is not as expensive as you may think.
In fact, you often get more value for your money when you place a catering order versus buying ingredients and cooking from scratch. Of course, you have to choose your caterer wisely.   At Cafesano, our regular customers come back to us because our catering menu is not only flavorful and unique – it's also affordable and healthy and we offer convenient and inexpensive delivery options around Northern VA. Remember, you are paying not only for the food, but also for the free time you get from not having to cook, which brings us to the next point.
Catering saves time.
Spend the night before your event picking an outfit or getting your beauty sleep – not driving to the food store to pick up more eggs because you ran out. Your daily life is busy enough without the added stress of party planning and cooking. Worry about the important things and leave the food preparation to us. At Cafesano we've made the process even simpler with our new online ordering system.  Check it out at www.cafesano.com.
Enjoy the party as much as your guests do.
Running between the front door and the kitchen is not anyone's idea of a good time, is it? When you let someone else take care of the food, you get to embrace your role as a hostess rather than juggling between being a cook and a waiter the entire evening. Go mingle, laugh and be in the photos for once – it's your party after all.
Take the guesswork out of how much food to serve.
If you entertain only occasionally, figuring out how much food to prepare is always a problem. Have you ever hosted a party where you ended up with way too many leftovers? Or even worse, ran out of food halfway through the event? A professional caterer can eliminate these worries for you, because we know from experience how to plan for groups of all sizes, ages and appetites.
Know that 100% of your menu will turn out delicious.
Have you ever had to apologize to your guests for an over-salted casserole or brownies that came out too dry? Do you recall hastily disposing of burned appetizers and pretending they were never on the menu? You'll avoid awkward moments like these when you order catering from a restaurant that serves food you've enjoyed and love. Cafesano's menu items regularly win rave reviews from our customers and if you want to order something you've never had before, ask for a sample – we'll make sure you're happy with everything before you place your order.
Call for catering the next time you host any of the following events:
Sporting Events on TV
Whether it's NFL or NBA finals, you'll enjoy the game more when you've got friends watching it with you. Go with catering and you won't miss any important catches or funny commercials while you are running to the kitchen to check on the oven.
Our recommendations: Greet your guests with our delicious dips—our Hummus and Avocado Dip are two favorites. After they've worked up a big appetite cheering on their favorite team, use the halftime to serve up heaping platters of our warm Italian Meatball, Roasted Turkey BLT and Caprese Panins. Add another platter of our flavorful Wraps. Serve the Chicken Shawarma, Roasted Turkey Pesto and Hummus & Greek Salad wraps and you can bet your house will be the favorite "go to" place for every TV get-together.
Baby Showers
Give the mother-to-be a lasting memory with a book full of great advice. Purchase a blank baby-themed book in the scrapbooking aisle of your local crafts store, then ask guests to share something they've learned from raising their own children or from the way their parents raised them.
Our recommendations: Since many of the guests (including the expectant mom) may be watching their weight, a light meal will appeal to most guests. You can't go wrong with Cafesano's Signature Salad (dressing on the side), and Grilled Skewers of marinated chicken, steak or seasoned shrimp, served with our fresh Fruit Kabobs. Since cakes are a thing of the past, order up a tray of our delicious Baklava for something a little different.
Children's Birthday Party
While most kids love birthday parties, they can be rather stressful for the parents. Reduce the stress by limiting the number of guests and setting a definite pickup time if parents aren't staying.
Our recommendations: Keep the food simple. Most kids love pizza, so get a basic cheese pizza for the youngsters and give their parents more sophisticated choices like our Margherita, Arrabbiata or Carne Amante pizzas. (Cleanup is easy with pizza, too!)
Wedding Anniversary
To make your wedding anniversary even more special, ask your guests to bring some photos of you and your spouse (those from a while back would be most welcome). Have a special bulletin board where they can be pinned up for everyone to enjoy. Take some photos at the party, and then create a collage from both old and new pictures to keep as a dear memory.
Our recommendations. When your extended family come together to celebrate a special milestone like a 10th or 20th wedding anniversary, you want to serve food that's warm and satisfying.  Our popular pastas will fit the occasion perfectly, whether you choose Penne Arrabbiata, Penne with Basil Pesto, Pasta Marina or our signature Lasagna. Add a Caesar and Signature Salad Bowl and end the evening with a tray of Cannoli.
Girls Night In
Skip the chick flicks and plan an activity that will get everyone talking and laughing. Ask your guests to bring a board game that they loved when they were kids (and have a few of the old favorites such as Life and Sorry on hand).
Our recommendations: Finger foods are a good choice since your guests can enjoy them between talking and playing games. Falafel, Spinach Pie, Tomato or Avocado Bruschetta and any of our dips all go great with any type of wine.
So, next time you're planning a party, don't make a grocery list – just call Cafesano and save yourself time and stress with our delicious and affordable catering in Northern Virginia. The possibilities and combinations are endless and don't forget to enlist the help of our catering coordinators who will ensure your party is a success!
At what other types of events have you found catering to be helpful?