Whether you are just visiting Northern Virginia and looking for a place to eat, or you are a local resident anxious to try something new, you probably rely on the internet when it comes to searching for the best restaurants. Bing, Google, and other search engines are good places to start your search, but if you want to discover fast or on the go, we know a few things that can help.
Foursquare
Foursquare is a goldmine for every foodie or casual restaurant-goer. Not only does it give you all the basic info about the place, such as address, hours, and pricing, but it has a few other awesome features that will make it a breeze to find the best restaurant in Northern Virginia.
–    Easy access to the menu
–    Customer reviews going over the advantages and downsides and even sharing tips on what to order and which menu items to skip.
–    Real photos taken by real customers: see exactly what you'll get
–    An overall score letting you know how many people enjoyed their experience at a particular restaurant.
You can access Foursquare on your phone and, better yet, you can earn rewards for "checking in." For example, at Cafesano, we were giving away gift cards to a random "tipster" and a person with the most "check-ins," check us out on Foursquare.
Yelp
You've probably heard about Yelp before or even used it a few times. Yelp has a huge community of users, which means you will get to read a variety of different reviews. Depending on how particular you are about the places you choose to eat at, you might want to compare at least a dozen different points of view before you make a decision.
You can search Yelp to find the best restaurants in Northern Virginia by location, prices, parking, type of food and many other factors – one of the most tailored search engines out there. Another cool feature is "review highlights." Yelp automatically pulls and highlights phrases mentioned by many reviewers to help you see right away what features people have strong opinions about. For example, the reviewers have mentioned Cafesano's Red Pepper Hummus, pizzas, and a lakeside view.
TripAdvisor
TripAdvisor is a great resource, no matter if you are out of town or have spent your entire life in Reston, Dulles, Alexandria, Herndon, or other places in Northern Virginia. TripAdvisor also gives you all the necessary contact, location, and menu information, but doesn't offer as many customer reviews and photos as Foursquare and Yelp.
However, the neat thing about TripAdvisor is that it breaks down the rating into food, service, value, and atmosphere categories. So if you see a place with great food but a poor rating for service, you might want to skip it.
Another great feature is internal ranking among all the nearby locations. TripAdvisor collectively evaluates all the reviews from a specific location and then ranks the restaurants according to the number of positive reviews, as well as other factors. Cafesano is proud to be the #1 ranked restaurant in Reston on TripAdvisor.
Urbanspoon
While the other three sites cover a variety of topics and businesses, Urbanspoon specializes exclusively in restaurants, cafes, bars, and similar establishments. The website gives you access to the complete portfolio of a restaurant – photos, menu, hours, pricing, Wi-Fi availability – you name it. Of course, Urbanspoon has its internal review and ranking system, but it also aggregates reviews from other sites, such as critic and blogger reviews. These reviews are helpful if you want to read about someone's dining experience in detail – not just a 2-sentence "it was good" type of feedback.
The mobile app for Urbanspoon lets you find and browse nearby restaurants, read reviews and even use a virtual slot machine to make a choice for you if you are feeling adventurous.
Foodspotting
Do you eat with your eyes, so to speak? Then you'll find Foodspotting irreplaceable when it comes to discovering new foods. This website (and a mobile app) encourages users to snap photos of their meals and share them with the community.  No reviews, no prices, hours, or other clutter – just pure deliciousness scattered around the map of your location. Check out what Foodspotting users photographed at Cafesano.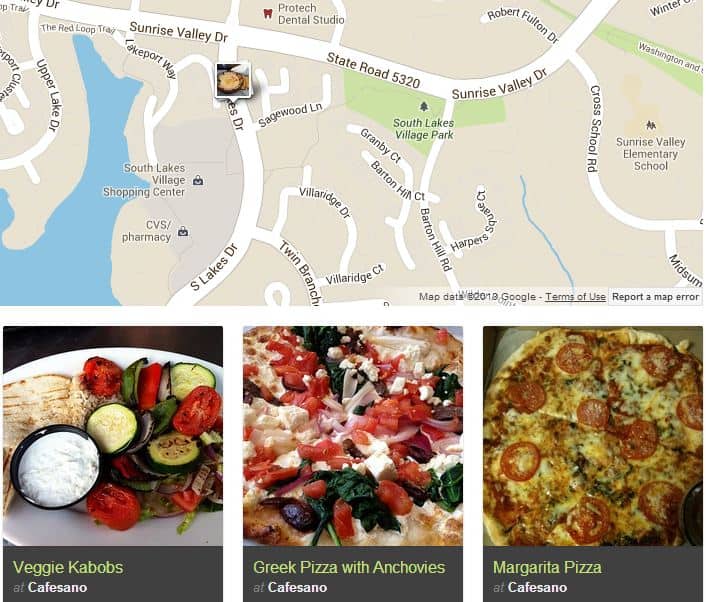 To find the best restaurant in Northern Virginia via Foodspotting you will need to use the "best" filter that will show you pictures that got the most likes. However, be careful – people might be voting for the photo, not the food, so trust your instincts and don't let likes deceive you.
Do you use any other food discovery tools and apps? Feel free to share!