Summer is officially upon us and we are in our fourth month discussing the Mediterranean Diet and how it contributes to a heart-healthy lifestyle.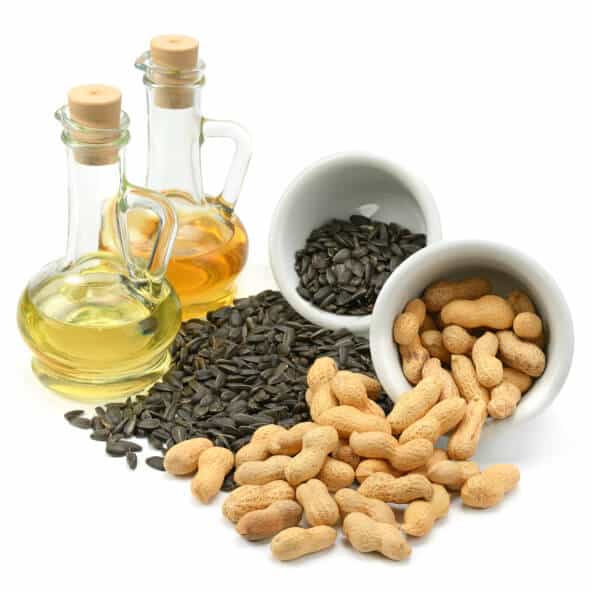 We've discussed the benefits of following the guidelines of the Mediterranean diet, and provided you with a basic shopping list to get you started.
We've also discussed how to incorporate legumes, fresh vegetables, and fruits into your everyday diet.
For July, we are focusing on the importance of nuts, seeds and olive oil, all of which are sources of healthy fats in the Mediterranean Diet, as well as other key nutrients.
While an important component on the Mediterranean Diet Pyramid, it is important that as you incorporate more nuts, seeds, and olive oil into your diet, that you do so with moderation.
The What & Why of Nuts & Seeds & Olive Oil
There is a reason why birds love nuts and seeds in the winter. Nuts and seeds provide energy in the form of healthy fats.
Certain nuts contain nutrients that help control blood pressure and help prevent certain cancers. New studies suggest that some compounds found in nuts can help prevent Alzheimer's disease.
Other nutrients found in nuts and seeds include:
Vitamin Bs – help break down carbohydrates and produce energy in the body
Copper and Iron – essential in red blood cell formation and production
Calcium and Fluoride – contribute to healthy bones and teeth
Nutrients found in olive oil include:
Vitamin E – an antioxidant that maintains the integrity of cell membranes
Vitamin K – helps build strong bones and prevent heart disease
Foleic acid – reduces blood pressure
The primary fat in nuts, seeds, and olive oil are monounsaturated fatty acids (MUFAs) which can help lower your risk of heart disease by lowering the levels of bad cholesterol in your body. Recent studies indicate that MUFAs might actually help control insulin and blood sugar levels.
Did You Know?
Cashews belong to the same plant family as poison ivy. Don't worry, though! Their poison is stored in their shells, which is why you never see cashews in the shell.
Almonds may help increase the amount of healthy bacteria in the digestive system.
Studies indicate that pistachios can help lower daily stress levels.
Pistachios have a colorful history. They are one of only two nuts mentioned in the Bible and, according to legend, they were declared royal food by Queen Sheba.
The walnut is the only nut to contain omega 3 fatty acids.
Many nuts and seeds are used to make vegan dairy products.
There are olive oil bars, like there are wine bars. The taste of olive oil depends on a variety of factors including harvest date, type of olives, and growing conditions. There are also a variety of olive oils that have been infused with different combinations of herbs and spices.
It takes olive trees approximately 5-8 years to produce their first crops
Olive oil can be the feature ingredient in many dishes. For example, there are several recipes online for olive oil cakes.
10 Quick Ways to Add Nuts, Seeds & Olive Oil to Your Diet
Switch out your normal bowl of cereal two times a week for a bowl of homemade granola or flax seed oatmeal. (See Recipe Below)
Add pine nuts, sunflower seeds, cashews, or almonds to your favorite salads and pastas.
Snack on nuts, seeds, or trail mix instead of potato chips.
Try SunButter (made from sunflower seeds) or almond butter instead of your regular PB&J.
Swap coconut or almond milk for regular milk in your favorite recipes.
Substitute rice with quinoa as a side dish.
Swap olive oil for butter, margarine, or vegetable oil in recipes.
Create your own salad dressing by mixing olive oil with balsamic vinegar, salt, pepper, and garlic.
Add slivered almonds to steamed vegetables like green beans.
Replace breadcrumbs with chopped almonds or pistachios when breading meats for recipes.
Real-World Recipes: Cooking with Nuts, Seeds, & Olive Oil
We've been showing you easy, less expensive ways of making popular health food items you find at the grocery store. We've shown you how to make roasted chickpeas for snacking, and veggie burgers for a heartier meal. This month we are going to show you how to make your own granola: perfect for snacking or for topping yogurt for an energy-packed breakfast.
Homemade Granola Recipes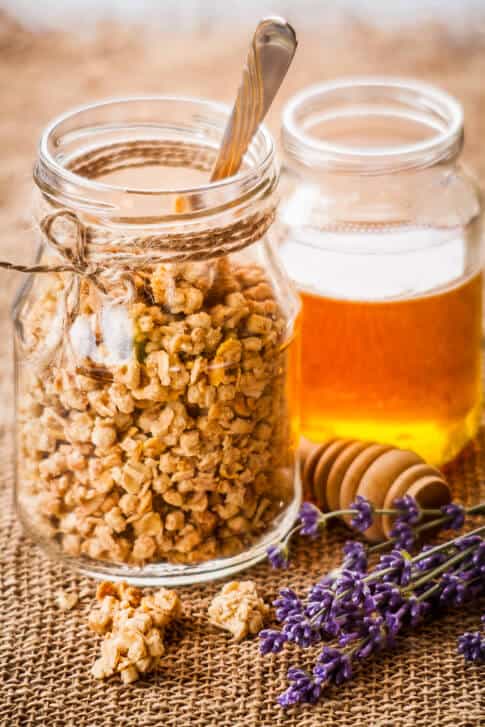 Much like our recipe for roasted chickpeas, our recipe for homemade granola acts as a general base. You can then add different herbs, spices, and other flavor combinations to make it your own.
To save money, buy the key ingredients of granola in bulk from your local grocery store.
You will need brown sugar, rolled oats, almonds, pumpkin or sunflower seeds, and wheat germ.
Mix together your primary ingredients and your selected flavorings* with a tablespoon or two of olive oil.
Spread out over a parchment paper lined cookie sheet and bake for about a half hour at 325⁰F.
*Note: Wait until after baking to add flavorings like dried fruit and edible flowers.
Suggested Flavor Combinations:
Orange & Vanilla: orange zest, orange juice and vanilla extract
Honey & Lavender: dried lavender, vanilla extract and a bit of honey
Cashews & Coconut: cashews, shredded coconut and maple syrup
Cranberry & Cinnamon: dried cranberries, cinnamon and honey
Pumpkin Spice: cinnamon, nutmeg, ginger, and maple syrup
Apple Pie: dried apples, cinnamon, walnuts, vanilla extract, and simple syrup
Already Got Breakfast Covered?
Look for recipes that feature nuts and seeds, like some pasta dishes, for dinners or even recipes to make your own nut butters for snacks.
Also try making your own infused olive oil to add more flavor to your recipes.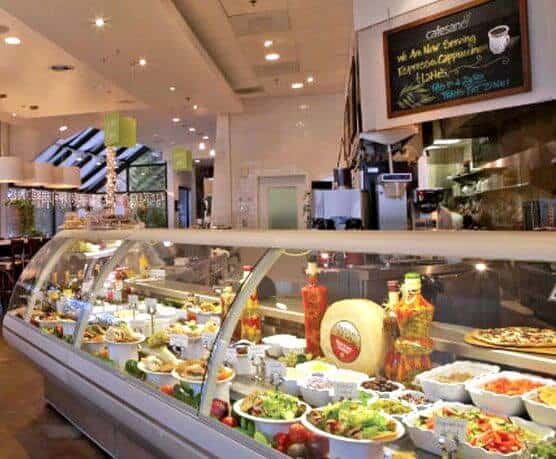 Too Hot to Cook? No Problem.
Cafesano serves up fresh, flavorful Mediterranean and Italian dishes daily for our neighbors in Northern Virginia with lots of light and healthy menu options perfect for a warm summer day.
Whether you're on your lunch break, running errands with your family, or even looking for a special treat for your employees and co-workers, Cafesano has you covered.
We offer a wide variety of menu selections that are sure to satisfy any palate (and most dietary restrictions too)!
If you prefer, our online ordering system makes it easy for you grab a healthy meal for carry out. Our online ordering system keeps a record of what you ordered previously so your future orders will be even easier and quicker.